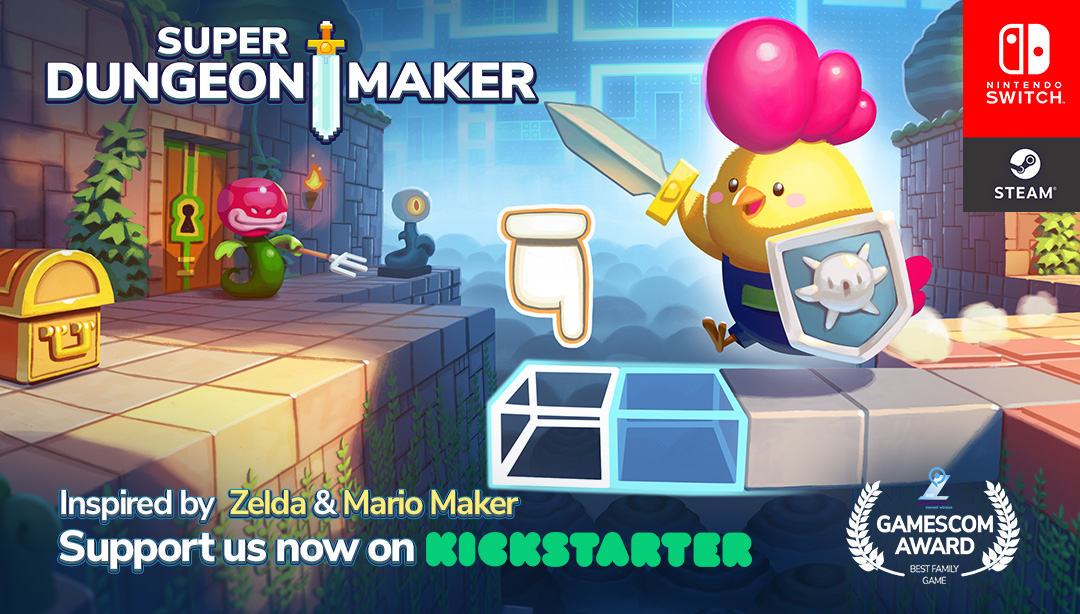 Super Dungeon Maker
Hey Fink´s friends,

We haven't posted any progress updates for a while, although we continued to update the game. The focus in development hasn't changed, but the marketing team has been busy with the Kickstarter. Therefore, a summary from September 14, 2022. A lot of it you've probably already found on your own, but I just didn't want to forget anything. (And yet it will happen).

There is a small spoiler section at the end of the news. You have been warned with it.
What's new?
Added a map icon to the UI to show if the map was selected and which key/button to press to open it
The compass will now play a sound cue when entering a room that contains a key.
Added a small pop up effect when collecting an item that shows you what you collected. You can finally see which item you got from a treasure chest.
We added tooltips for most objects that you can build into your dungeon.
Some objects offer more detailed explanations with the press of a button.
We added a lock block - Use a key to open the lock and destroy the block.
Save game notification. After 5 minutes without saving you will get a discreet info. Do you like the solution?
What's changed?
The compass will now play a sound cue when entering a room that contains a key.
We improved the menu controls for gamepad users - consistent navigation and better audio feedback for your actions.
Various minor updates to the User Interface.
Bug-Fixes
Map Texture was too small.
The compass did not correctly show icons on different floors.
Keys and Map Display would overlap.
Enemies would incorrectly affect events (doors/spawners) in other rooms.
Seasonal themes did not work correctly for dungeons uploaded during the event.
Spawners on the enemy channel would not work correctly.
The game may sometimes crash while closing the application - "YOU CAN'T FIRE ME! I QUIT!!!"
Known Issues
Downloading dungeons takes a long time - Currently looking into this
Some objects are still lacking their tooltips.
What's on our minds and what we're sitting on right now.
Of course we have been busy with Kickstarter lately, but Flonja and Adrian have been the main ones. Unfortunately, no "Updates News" came and we also heard you loudly that it is important to you. We will stay tuned, but we ask for your patience and understanding. We don't want to upset anyone with this, we ultimately want it to be a fantastic project. But we also need a lot of people to know that the game exists. And here the marketing team has to do a lot.

We are currently still sitting on a new theme. For this, Linda created beautiful pixelart graphics and Julian is hacking in Unity3D. At the same time we get a lot of feedback and change requests. We still have to sort it all out, but we appreciate your feedback.

I hope I could give you a good insight. We are looking forward to your feedback.

PS: We currently have 99 reviews on Steam. Let's make it to 100 today.